Spotlight on: The Elemental Conflict Between Fire and Water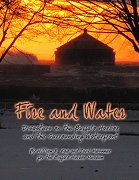 Canalside. Buffalo's rediscovered waterfront, now a place for relaxation and play. But through the years, the Buffalo Harbor and surrounding waterfront have been the site for terrifying and deadly conflagrations. Fire and Water tells the tales of more than 45 catastrophic and near-catastrophic events and fires on the Buffalo shore, including mill fires that hit General Mills and Pillsbury, The Gale of 1921, and the 1900 Minnesota Ore Dock Disaster.
---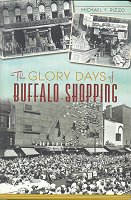 Buffalo once was a shopper's paradise, and those fond memories live on today for generational of locals. Well-recognized national chains, like the A&P, and local department stores like AM&A's and Sattler's were among the great retailers that dotted the main streets of the Queen City. In this updated version, Buffalo native Michael Rizzo revisits the days when the city's streets were lined with stores, and its sidewalks crowded with shoppers.
---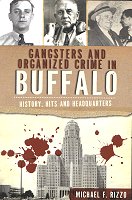 Buffalo and the surrounding area was the turf run by a powerful crime family headed by local boss Stefano Maggadino. Beginning in the 1920s, Maggadino and his Mafiosi maintained a stranglehold on the city until his death in 1974. Local mob historian Michael Rizzo leads you through everything from these brutal gangsters' favorite hangouts to secret underground tunnels to murder.
---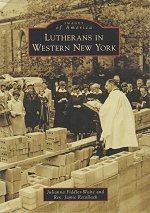 During the construction of the Erie Canal in the early 1820s, the population of Western New York increased 145 percent. Many of these pioneers were European immigrants, with a high concentration hailing from the German-speaking states. In Lutherans in Western New York, you'll learn about the people who brought their Lutheran ideals to their new homeland.
---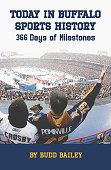 There has never been a book about Western New York's sports history quite like this one. Today In Buffalo Sports History covers the region's rich legacy ... one day a time! Based on the popular Buffalo News feature, the book reviews the biggest sports events ever to take place in the area. It covers everything from a world record back in 1862 to all the milestones involving the Bills, Sabres, Bisons, Bandits and Braves.

---
New neighborhood books available through Western New York Wares:
Grand Island | Wellsville | Legendary Locals of East Aurora | Town of Tonawanda | Love Canal | Depew
Springville | Tonawanda and North Tonawanda | Route 20 | Holland Int'l Speedway | Lackawanna

---