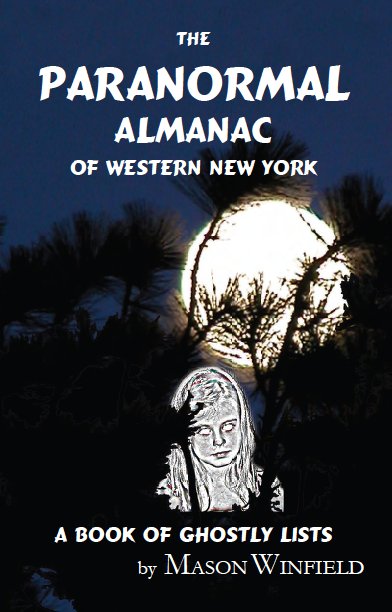 Books: by Title: The Paranormal Almanac of Western New York
Do ghostly beings lurk in the shadows of many cities, towns and villages across Western New York?
Who among us is living above ancient burial grounds or bloody battlefields?
Does our region have its own Loch Ness monster?
Call Mason Winfield's electrifying new book a ghostly gazette of the Western Door. Or perhaps a primer of paranormal wildlife in upstate New York. Winfield's meticulous research and investigative odysseys have produced a series of popular books, a DVD and an audio book. But his new work, The Paranormal Almanac of Western New York: A Book of Ghostly Lists, is a first-of-a-kind handbook of local hauntings. Tapping into his two decades of research, the region's premier paranormal historian has created a riveting almanac-like book that shines a spotlight on more than 600 spine-tingling incidents that involve over 300 local sites.
"Everywhere people live, they tell wonder-tales of all sorts, including ghost stories," says Winfield. "Every little town in upstate area has a dozen haunted houses somewhere in its legacy, whose tales, with strategic effort, could be resurrected and preserved."
Readers will discover hundreds of fascinating nuggets that include:
Legendary gremlins from local lore.
Mystery finds of bizarre humanoid skeletons.
Ancient spiritual sites where mystical energy remains powerful.
Strange graves, UFO reports and sightings of half-human beasts.

"This book is not a profile of haunted sites and buildings," Winfield explains. "That would have been too easy. They are everywhere. The book is an anthology of trickier things, supernatural-paranormal beings, events and characters that stand out in the legends and reports of the Buffalo-Niagara region, as well as some general curiosities."

From longhouse legends and reports of folkloric demons, to stately soldier ghosts and incidents involving haunted houses, The Paranormal Almanac of Western New York is sure to entertain, educate and perhaps even terrify readers.

"If you are expecting me to validate the paranormal reports that I mention in these pages, or imply that you could experience the events yourself by visiting relevant sites, you have the wrong book," Winfield states. "But if you are looking for reader-friendly summations of our region's paranormal legacy, keep reading."


ISBN: 978-1-879201-73-6
$14.95

© 2012 Western New York Wares Inc.