Books: by Title: Haunted Places of WNY:
A Supernatural Tour Guide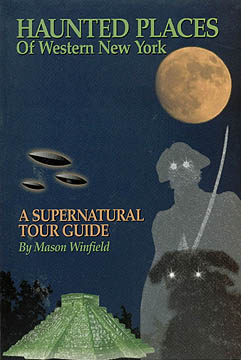 Mason Winfield takes you on a haunted history tour of Western New York's mansions, inns, churches, battlefields and more.
Make a vision quest of your own to ancient holy places and stand in the energy sites.
Scout for mystery monsters or UFO's in one of the legendary "X-Zones" with the founder of the Buffalo and East Aurora ghost walks.
"Life itself is a wonder," Winfield writes, "and every spot on earth has mystery. Some spots have more than others, and that's what this book is about."
Winfield -- along with Michael Bastine, Franklin LaVoie, and Amy Reed -- have assembled a tour-guide to mystery places in Western New York.
ISBN: 1-879201-45-3
$14.95